March 25th! 7th Annual Viking Biking Potluck & Food Fundraiser!
Is that time of the year again! Different year, same ride with hopefully even more fun! *Ride 8-10 flat miles *Fundraiser for the Greater Community Food Bank *Potluck to follow afterwards at the Southside Riverview Park : BRING SOME FOOD TO SHARE! OR CASH SO WE CAN STOP BY A GROCERY STORE ON THE WAY *Viking attire always welcome! For more information on the ride, please go to FB at this link:  
https://www.facebook.com/events/704369536415176/
  Map for where we'll be meeting: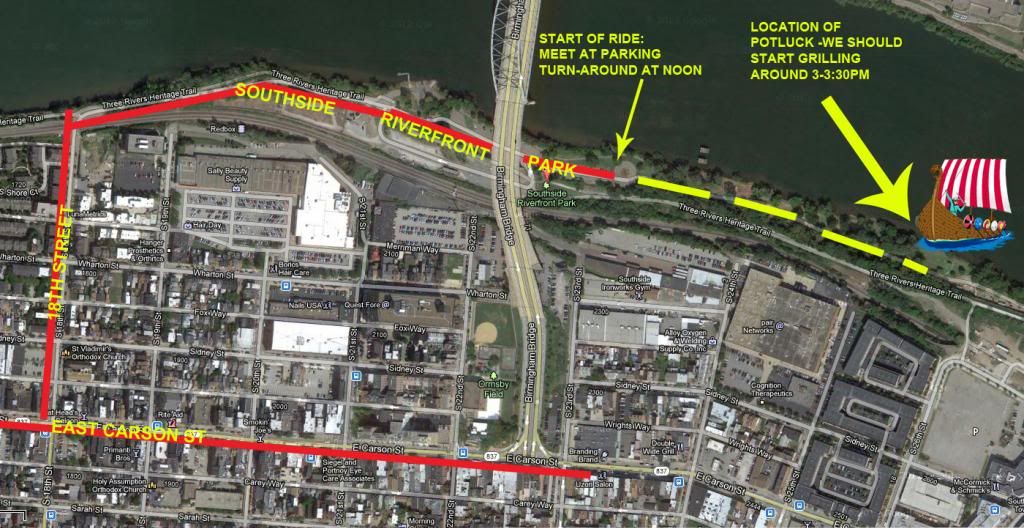 2017-03-11 19:03:35
Photos from years past:
[caption id="" align="alignnone" width="960"]
Eats![/caption]
2017-03-11 19:09:28
Not to seem difficult, but most of the articles I've recently read on the topic of food-for-the-needy point out that the stuff that donors contribute has two problems: 1) It's usually not what needy people actually need, and 2) dealing with food donations is a significant logistical burden for the agencies involved. They would much prefer cash donations: it's both simpler to manage and when buying food they, unlike you, will get it wholesale. So there's more food to give out. The only thing the organizers of this event should have to do is publicize a reliable process by which participants can donate cash to the beneficiary organization (Greater Pittsburgh Community Food Bank). The
GPCFB website
links to a donation page. Maybe the thing to do is donate online, then show up for the ride... If you still want to donate stuff check out their
list of suggestions
. Note that the first edible item that shows up (pasta) is down at rank 5.
2017-03-12 21:21:36
I will share my food pantry story. Make of it what you will. For over 10 years, every weekend I pick up the leftover food from one of the Panera stores. I actually do this on both Saturday and Sunday mornings. Each day's donations represent the unsold bagels, bread, and pastries, from that one store. Without someone to take it off their hands, it goes in the dumpster. Every store, every day. OK, so I am the designated picker-upper at Ross Park Mall those two days, and for a couple years, both days' pickup went to a food bank in McKees Rocks. Then one day, I got a call that they had a problem on their end, and could no longer receive it. I was on the bike at that moment. (Remember the Mexican festival in Beechview last June? On my way home from that.)  OK, here I am, rolling up Perry Highway past the bus garage, with a carload of bread sitting in my driveway and noplace to take it, and the same again the next morning. It was about 5:45 on a Saturday, and the church I was passing in West View was just opening its doors for 6pm services. I walked in, asked for someone in charge, and within a couple of minutes, was talking to the woman who oversaw the church's food pantry. Yes, they would appreciate a donation of perishable bread, and in fact, they were looking for something like that. They were awash in canned goods and pasta, but what they really needed was bread, and a lot of it, and a steady supply. And there I was. Fifteen minutes from what the heck am I going to do with it all, to having a willing taker of 50 pounds of food a week. No joke. I later lined up another taker for the second day's pickup. Moral of the story being, work your network. See if any of the Paneras or other bagel joints have a day that's going to waste, and simultaneously figure out who could use such a supply. Then show up and commit to doing it. I (or they, depending on how you look at it) was darn lucky, but my suspicion is that there are a lot of hungry people and methods to feed them, but someone's gotta connect the dots and make it happen.
2017-03-13 20:50:22
This is today! The weather's going to be GREAT! Come out and welcome the arrival of Spring, Norseman style!   Can't make the ride? We'll be around the fire drinking beer and sharing food afterwards! Join us at the park! Bring monetary donations for the Food Bank!
2017-03-25 09:01:28